Mandatory Responsible Conduct in Research Training for REU Participants:

As of Fall 2010 all students participating in the REU program must take the Responsible Conduct in Research Training course. Please, follow instructions posted here.
---
Welcome to the College of Engineering Research Experience for Undergraduates (COE-REU) Program at USF!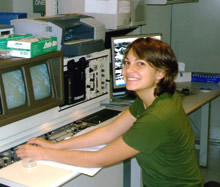 The COE-REU program aims to give undergraduate students an oppurtunity to directly participate in state-of-the-art research efforts. COE-REU students work as Research Assistants with professors and graduate students on a varitey of exciting and interdisciplinary research projects. Typically, students new to the program are given smaller projects, which they carry out under the guidance of graduate students and professors. Graduate students and professors both serve a dual role as research partner and mentor to the REU students. The goal is to introduce students to the scientific process, and research ethics and professionalism. As the students progress in the program, their projects become more individualized and complex. Several past REU students have published their work in major scientific journals and contributed to international conferences. This experience is also highly regarded in the engineering arena and is useful for future job placement and graduate school applications.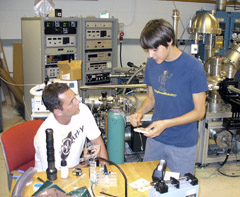 Our program offers a number of Undergraduate Research Fellowships sponsored by the Dean of Engineering and by the Office of Undergraduate Research. These fellowships are available to all engineering undergraduates of all levels. This oppurtunity is also available to students of other USF departments and regional Community Colleges, who would like to participate in research projects in one of the engineering departments. Interested students can start working with faculty anytime of the year on a flexible schedule, which only depends on the arrangements made between Faculty Mentors and Undergraduate Research Assistants. Formal enrollment into the COE-REU program occurs on three annual dealdines. Please, visit our applications page for more details. You can also download the COE-REU flyer, which summarizes the most important facts about this program.
We hope to see you soon in a laboratory near you!
Sincerely,
Your COE-REU Coordinators:

Ryan Toomey, Chemical and Biomedical Engineering
Jeff Cunningham, Civil and Environmental Engineering
Miguel Labrador, Computer Science and Engineering
Arash Takshi, Electrical Engineering
Grisselle Centeno, Industrial and Management Systems Engineering
Nathan Crane, Mechanical Engineering
Ken Short, Center for Urban Transportation Research