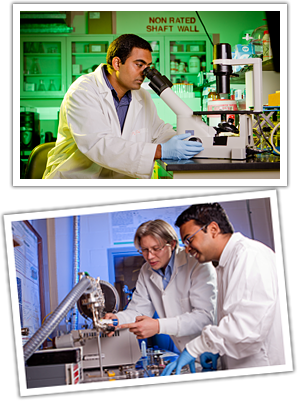 Degree: Engineering Science PhD
Program Description:
Advanced study and research challenges exist at the interfaces between engineering and science disciplines. The Engineering Science PhD program is designed for students who wish to pursue studies in interdisciplinary engineering areas. The College also collaborates with other academic units of the University in research activities and selectively educates students to become proficient in such interdisciplinary fields. The Engineering Science PhD program is administered by the College of Engineering Dean's office; however students in this program are assigned to one of the six departments in the College as the host department (the one most closely associated with the student's proposed area of study). The goal of the Engineering Science PhD program is to provide graduates with an advanced interdisciplinary engineering education that enables them to lead the advancement of knowledge of their chosen area of engineering science through continued research and publications.
Minimum requirements for admission to the PhD in Engineering Science are:
Grade Point Average of 3.0 or higher (4.0 scale).
GRE required.
International applicant whose native language is not English or who has not earned a degree in the United States must submit minimum TOEFL of 79 internet-based
test, 213 computer-based test, or 550 paper-based test.
Three letters of recommendation.
A statement of purpose with research interests.
Graduation requirements for completion of a PhD in Engineering Science are:
Forming a Supervisory Committee consisting of at least five members (with a majority from the College of Engineering, at least two departments of the College represented, and with one member from outside the College of Engineering).
* Meeting University and College credit hour requirements for doctoral program. The Engineering Science PhD program is individually designed by the student's (Co)Major Professor(s) based on the student's main areas of interest.
Successfully passing an oral and written qualifying examination designed and graded by the student's supervisory committee.
Successfully being admitted to candidacy.
Completing at least 20 hours of dissertation research resulting in an original and significant contribution to the knowledge in the field of research.
Meeting minimum residency requirements of the University. Any graduate work counted toward the fulfillment of the requirement for the Ph.D. degree after admission to candidacy must be accomplished within 5 calendar years.

* Change approved by USF Graduate Council on Oct. 15, 2012 allows current Engineering Science PhD students to take the College of Engineering minimum credit hours for their doctoral program. These are: completing a total of 72 hours beyond the baccalaureate degree, including a minimum of 20 hours of dissertation, and a minimum of 30 hours of coursework (excluding independent study and directed research). This change will be formally listed in the 2014-2015 Graduate Catalog.
For more information: FAQ
APPLY NOW >>