USF is in the midst of its most significant and aggressive comprehensive fundraising campaign entitled important USF:UNSTOPPABLE . The name of our new publication for the College ("enVision") just happens to fit nicely with the Campaign "enVision" an UNSTOPPABLE USF and College of Engineering.
What do you envision for the College? What do you dream of for the College? A new undergraduate facility to accommodate our growing numbers? Scholarships for deserving and talented student? Professorships to attract those at the top tier of the profession? As you might imagine, that is exactly what the Development Office will be focused on during the Campaign.
We cannot do it alone. We will need the help of each of our alumni, friends, corporate and foundation partners to help take us to UNSTOPPABLE new levels.
We challenge you to what an USTOPPABLE College of Engineering would look like. And we invite you to join our UNSTOPPABLE trajectory with your time, talent and gifts if you haven't done so already.

Unstoppable Campaign website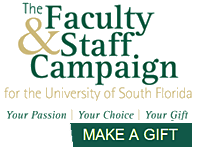 Unstoppable Case Statement- PDF
Pictured: Benyam Gebru, the current Schnabel-Sparacio Scholarship Endowment recipient, and Dorothy Schnabel enjoy lunch together at the annual Heart of Gold Scholarship Luncheon.
Scholarship continues to be a focus of philanthropy at the College of Engineering.  Thanks to Dorothy Schnable and her late husband, Frank Sparacio, a new scholarship is available for computer science and electrical engineering students.
In 1990, Professor W. Clark Naylor hired Dorothy Schnabel as a research assistant for the Computer Science Department at USF. Dorothy Schnabel brought thirty years of experience with IBM to the position.  She is a graduate of City College of New York with an electrical engineering degree earned the early 1950's. Dorothy Schnabel was one of the few women engineering graduates at the time.  Frank Sparacio, Dorothy's husband had pioneered much of what the current crop of computer science students take for granted, parallel processing and high-performance scientific applications. A graduate of Rutgers University, Frank held over 30 patents.
"We both received scholarships," explains Dorothy. "Both Frank and I would have had a very difficult time getting an education.  Our education enabled us to use our talents and interests in very fulfilling careers, and to earn good wages," explains Dorothy when asked about why they started this scholarship. "We enjoyed a comfortable living, but more importantly, we were able to contribute back to society.  We were privileged to get an education that made our lives better," she explains. "We feel we have an obligation to give back to society, in some way or another."  Frank Sparacio passed away two years ago. But he and Dorothy had decided to establish a generous scholarship for students who lacked sufficient financial resources.

Barbara and Len McCue, along with their student recipient Simon Restrepo, discuss the impact the Q Motor Sports Family Student Racer Scholarship Program has had on their lives.
Barbara and Len McCue have turned a life-long passion for auto racing into a tremendous scholarship opportunity for mechanical engineering students. Len McCue has been racing on an amateur and professional level since 1959, but the attorney from Bradenton (by way of Boston) takes as much pleasure in helping the next generation of gearheads prepare for a career in auto racing, engineering management or any of a number of related mechanical engineering fields.
 "Because of the connections of interests - racing and education – this is the most rewarding community service work we do," Len said. "It's been a great experience to get to know these students and to see how smart they are – and to see how they share our passion."
The USF Racing team consists of undergraduate mechanical engineering students who are involved in building formula-one-style race cards as part of their involvement with the Society of Automotive Engineers (SAE). "Our relationship with the College of Engineering and these students in SAE has been wonderful for us," Barbara said. "It's been a natural fit for us. We know how much work goes into these cars, we know how much time, thought and effort is required. Knowing that, and also knowing that these students are juggling a rigorous class schedule, makes their achievements all the more remarkable."
For more information on how you can establish a scholarship fund for the College of Engineering, contact Beth Creed Fontes or 813-974-9992.

In the Fall, the College of Engineering celebrated the 18th annual Heart of Gold luncheon. This year 125 students received scholarships valued at more than $200,000. The luncheon provides the students with an opportunity to meet the donors who support them. Without the generosity of donors such as you, many of these students would not be able to achieve their full potential both academically and professionally. Thank you so much for contributing to this very important event.

Heart of Gold 2012
Marshall Center Ballroom
Friday, September 21
11:30 am - 1:30 pm
Luncheon and Awards Program